Your usage of StackAnalyzer can be qualified according to ISO 26262, DO-178B/C, IEC-61508 and other safety standards. We offer special Qualification Support Kits (QSKs) that simplify and automate the qualification process.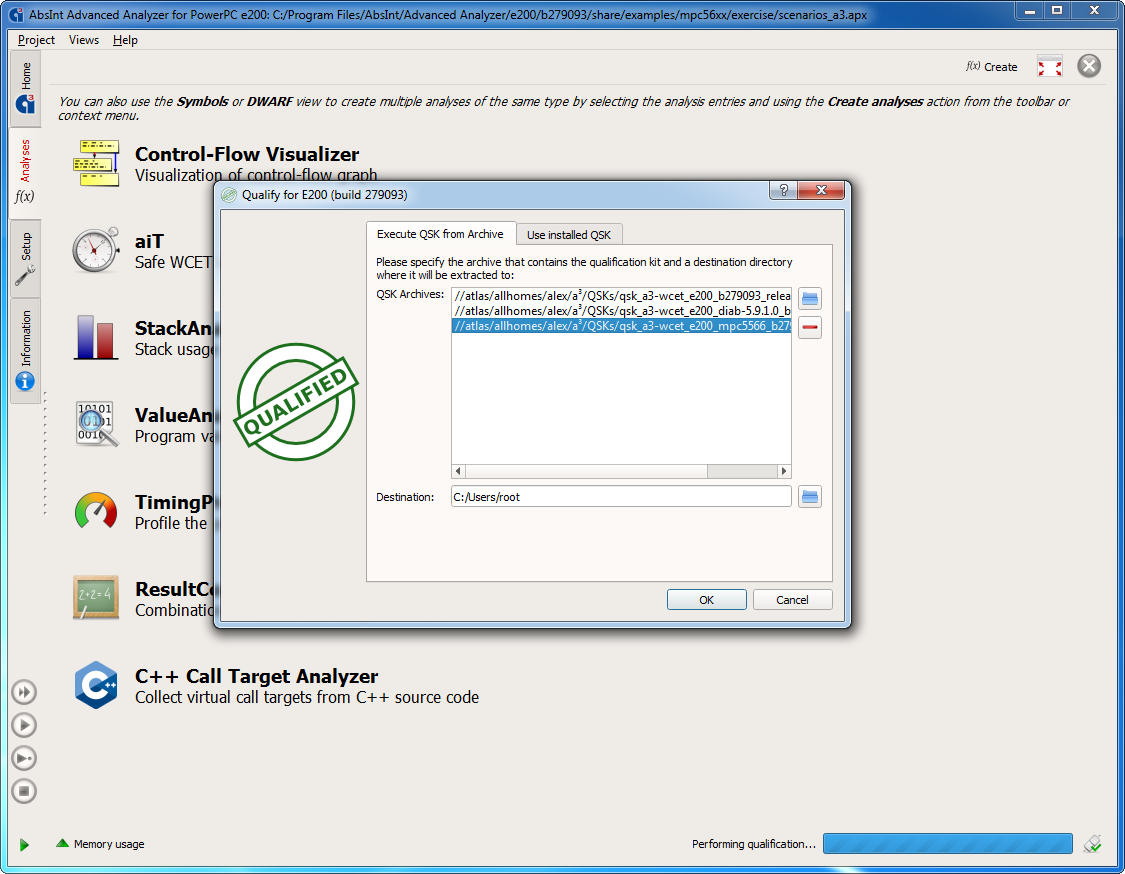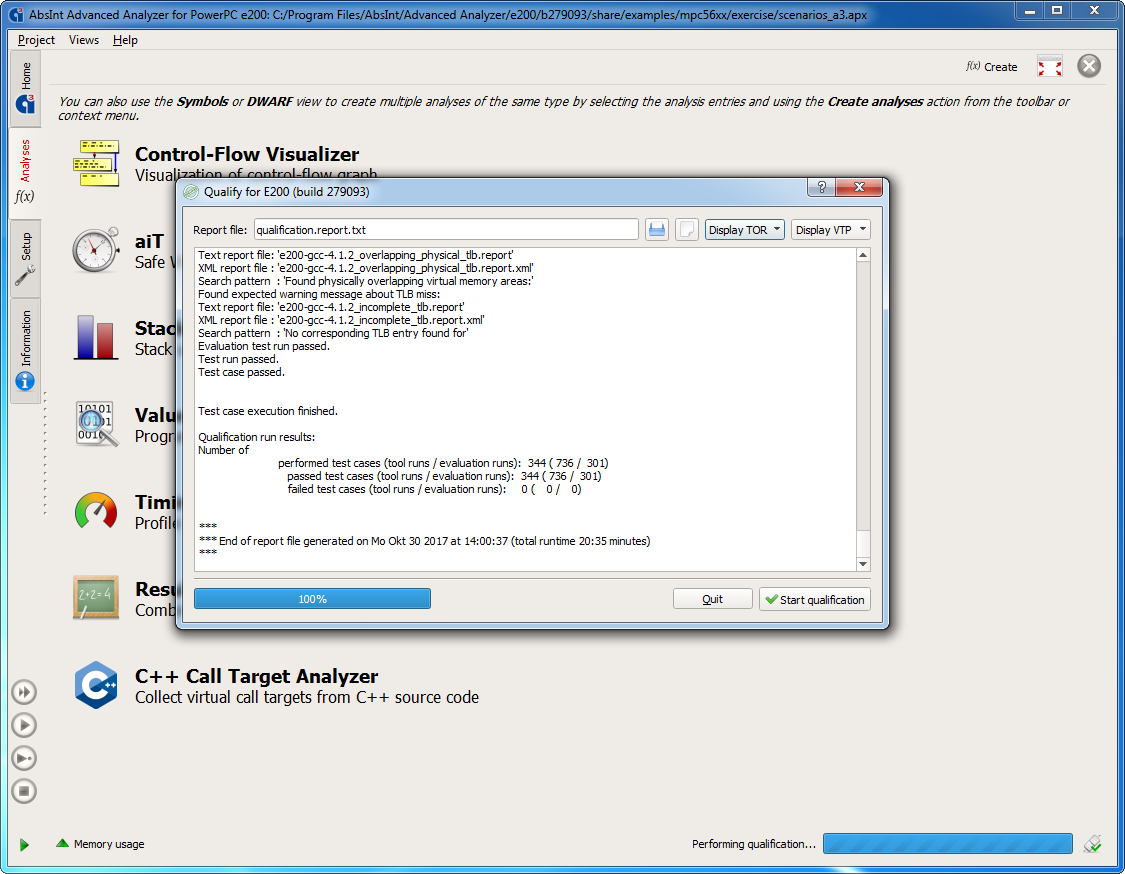 Each QSK consists of two major parts that depend on one another: a Report Package and a Test Package.
The QSK Report Package
Operational Requirements Report, listing all functional require­ments for StackAnalyzer.
Verification Test Plan, describing one or several test cases for each requirement that should give confidence about the correct functional behavior of the tool.
The reports are generated in HTML, enabling easy integration into your cer­tification documents. Both reports are templates, so you need to edit a few things according to your usage of StackAnalyzer. For example, you have to specify the com­piler switches that you use to gene­rate the execut­ables ana­lyzed by the tool.
The QSK Test Package
All test cases listed in the Verification Test Plan.
A framework of scripts to execute all test cases and evaluate the results.
The evaluation result can be printed and attached to your cer­tification document.
Easy to use
Each QSK is delivered as a single ZIP archive that doesn't need to be unpacked. You can run one or several QSKs directly from within StackAnalyzer, both in GUI and batch mode. All tests are carried out fully automatically, and the results are then displayed and/or saved to a report file specified by you.
Custom test cases
All QSKs can also be easily extended with your own test cases to cover your operational environment.
Generic and compiler-specific QSKs
The base version of a QSK performs checks on test cases created with a "gene­ric" C compiler, e.g. some reasonably common version of GCC. Typically, this is sufficient for certification.
The certi­fi­cation authority and/or the nature of your application may also dictate that the qualification be carried out on test cases compiled with the exact same version of the exact compiler you are using. For this, a number of compiler-specific QSKs exist: optional add-ons to the base QSKs that offer additional test cases compiled with the specific compiler in ques­tion.
Availability
The following QSKs are available at a moment's notice:
Base QSK (generic)
Add-on QSKs (compiler-specific)
StackAnalyzer for ARM
GCC 4.7.4
GCC 4.9.3
GCC 4.9.4
GHS 2019.1.4
Keil 3.1.9.939
Keil 5.02.0.28
TI 4.9.1
StackAnalyzer for C16x
Tasking VX 2.4r1
Tasking VX 3.1r2
StackAnalyzer for dsPIC
✗
StackAnalyzer for M68020
GCC 4.2.1
StackAnalyzer for PowerPC
CodeWarrior 4.3
DiabData 4.4
Diab​Data 5.6.1.0
Diab​Data 5.8.0.0p4
Diab​Data 5.8.0.0p6
Diab​Data 5.9.4.8
GCC 3.3.2
GCC 3.4.4
GCC 4.1.2
GCC 4.3.3
GCC 4.9.3
GHS 5.2.4
SCORE 3.7.1
StackAnalyzer for TriCore
✗
StackAnalyzer for V850
GHS 5.1.7d
StackAnalyzer for x86
GCC 4.4.5
GCC 4.9.2
GCC 4.9.4
QSKs for other target processors have to be developed on request. This typically takes a few weeks depending on our workload. Compiler-specific add-ons may take longer, depending on the availability of the specific compiler version requested. Please contact us with any questions.
Qualification Software Life Cycle Data (QSLCD) Report
In addition to QSKs, a QSLCD Report is available that describes the entire devel­opment process of StackAnalyzer and covers all veri­fica­tion and quality-assurance activities on AbsInt's side. A free "sneak preview" version of the Report is available on request.
Integration into SCADE
StackAnalyzer is also available as an integral part of the SCADE development envi­ronment, which is DO-178B and DO-178C qualified up to level A for Military and Aerospace Indus­tries, IEC 61508 certi­fied at SIL 3 by TÜV for Heavy Equipment and Energy, and EN 50128 certified at SIL 4 by TÜV for Rail Transportation.
Further reading
PDF datasheets