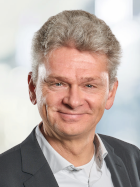 Contact
Curriculum vitæ
Christian Ferdinand, born in 1965, completed the diploma de­gree program in computer science and electrical engineering at the Saarland University from 1985 to 1990.
Between 1991 to 1998, he was a research associate at the De­partment for Compiler Construction and Pro­gram­ming Lan­guages at the Saarland University. At this time, he also partic­ipated in the ESPRIT projects PROSPECTRA (Programming by Specification and Transformation) and COMPARE (Compiler Generation for Parallel Machines). He was also a member of the Collaborative Research Center no. 124 for VLSI and Par­allelism.
In 1997, he completed his doctorate, summa cum laude, his dissertation being entitled "Cache Behavior Prediction for Real-Time Systems". In recogni­tion of his work, he was awarded the Dr. Eduard Martin Prize in 1999 for the best Ph.D. thesis in computer science at the Saar­land University.
Throughout his studies, Christian Ferdinand has always kept an eye on practical applications. He received an under­graduate student scholar­ship and a Ph.D. student scholarship from Siemens AG. Since February 1998, he is the CEO of AbsInt, of which he is one of the co-founders. His current work is focused on code gene­ration for digital signal processors and on timing analysis for real-time systems.
Research interests
Compiler construction
Parallel machines
Functional languages
Program semantics
Pattern matching
Cache analysis
Worst-case execution time prediction
Software visualization