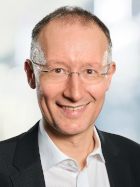 Contact
Curriculum vitæ
Daniel Kästner, born in 1973, studied computer science and business economics at the Saar­land Univer­sity. In 1997, he completed his master's thesis about code gen­eration methods for digital signal processors, for which he received the 1999 VDI Saar Award.
From 1997 to 2000, he received a doctoral scholarship in the Graduate Research Program "Efficiency and Complexity of Al­gorithms and Computer Systems" funded by the Ger­man Re­search Foundation. In 2000, he completed his Ph.D. thesis, sum­ma cum laude, about code optimization for embed­ded processors, for which he received the SaarLB Science Award in 2002.
Dr. Kästner is a co-founder of AbsInt. From 2000 to 2003, he was a research associate at Saarland Uni­versity and Senior Software Engineer with AbsInt. Since 2003, he is CTO at AbsInt.
2007 and 2012 he was a guest lecturer at Saarland University with advanced courses on the development of safety-critical embedded systems.
Dr. Kästner is a member of the ISO 26262 and IEC 61508 working groups on Software Safety, and a member of the MISRA C and MISRA SQM working groups.
He was a program commitee member of nu­merous in­ternational conferences, including:
SCOPES 2004, 2007, 2009–2011
FMICS 2011
Dr. Kästner is also a frequent speaker at the many tradeshows, conferences, and other events that we attend every year all around the world.
Research interests
Functional safety
Cybersecurity
Program analysis
Run-time error analysis
Compiler design
Compiler verification
Abstract interpretation
WCET analysis
Microprocessor modeling
Task scheduling for real-time systems
Code generation and optimization
In these fields, Dr. Kästner has authored or co-authored over 70 peer-reviewed publications.